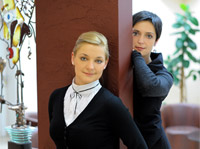 Naturally, the mandatory starting condition of any clinic is the highest and continuously developed qualification of doctors as well as modern and regularly upgraded equipment. Nevertheless, since the start-up of our clinic, I was focused on one more thing that is even more important than cutting-edge technology and the highest qualification. It is the doctor's attitude to work, mutual understanding and trust between the doctor and the patient, ability to see common goals, shared responsibility for health, as well as psychological comfort of the patient. My goal is to create a comfortable home-like environment in the clinic and to bring a Latin phrase Domus renidentium beatae, once heard in my dream, a reality. When I learned that it means 'Home of blessed smiles' I had this saying written above the entrance and consecrated together with the clinic.
I am happy that my sister Gabrielė, who has also decided to become a dentist, joined me at the 10th anniversary of the clinic and now we bring this vision to life together.
Our clinic welcomes patients with home-like colours, smells, sounds, music, and travel images on the screen. Here you are directed not to the numbered room but to the room of Irma, Gabrielė, Viktorija, Agnė, Liudas, Živilė and other people, as at home. Here, like in your home, every room has a different style, atmosphere and even a totem: an elephant, a fish, a snail or a frog summoning rain – the water of life...
Our clinic is part of your home. Treatment here is the continuation of dental care done at home. You should come here not to 'fill a cavity' but to learn how to take care of your teeth so that they remain healthy. Here you will meet not a personal dentist but a team of professionals, each of them doing the job he or she knows best. The key person in this team is you. With your participation and help we will be able to precisely diagnose the disease and also – most importantly – to detect and eliminate the causes of the disease.
There is a joke that a frugal man advised his son to become not a cardiologist but a dentist because people have only one heart but 32 teeth. In our clinic '32' every tooth is as important as heart, lungs or any other organ of your body. But the most important thing here is a happy smiling person.
A Japanese proverb says: Fortune will call at the smiling gate.
We will welcome you with a smile and farewell you smiling.
Viktorija and Gabrielė Ščiukinaitės